Monday, November 9th
Welcome Reception
Jupiter Lighthouse & Guanabanas Restaurant in Jupiter, FL
The Northern Palm Beach County Chamber of Commerce and our Executive Trustee Council, in conjunction with the Economic Council of Palm Beach County, gave a warm welcome to our Florida Cabinet on Monday night with a sunset visit to the Jupiter Lighthouse and a Welcome Reception at Guanabanas Restaurant.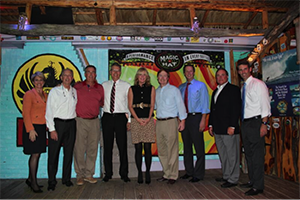 Tuesday, November 10th
Cabinet Meeting
Florida Atlantic University – John D. MacArthur Campus in Jupiter, FL
On Tuesday, the Meeting of the Governor and Cabinet convened at the FAU Jupiter Campus. During the meeting, Governor Rick Scott and Volunteer Florida CEO Chester Spellman awarded Kayla Abramowitz, the Champion of Service Award, Florida's official statewide volunteer recognition. Kayla Abramowitz is our Chamber's very own YEA! student, who won the Young Entrepreneurs Academy (YEA!) national competition earlier this year.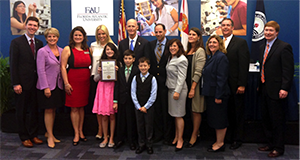 Champion of Service: Kayla Abramowitz
Kayla Abramowitz is the Founder and CKO (Chief Kid Officer) of "Kayla Cares 4 Kids," a non-profit organization that collects education and entertainment items to donate to children's hospitals. Kayla, now 13 years old, launched Kayla Cares 4 Kids following her own and her brother Ethan's extended hospital stays due to chronic illness. When she launched the project in 2013, Kayla's original goal was to collect 100 DVDs to donate to Nicklaus Children's Hospital in Miami. Since its inception, Kayla Cares 4 Kids has collected and delivered over 9,500 books, DVDs, game consoles, video games, and arts and crafts to 81 children's hospitals and related facilities in all 50 states & Washington, D.C.  Among numerous other awards, Kayla recently competed against 2,000 student businesses at the U.S. Chamber of Commerce's Small Business Summit in Washington D.C., winning the national competition. Kayla is an 8th grader at Watson B. Duncan Middle School in Palm Beach Gardens.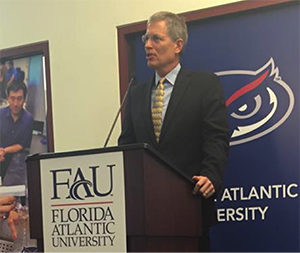 Chairman Philippe Jeck provided welcome remarks to the Governor and Cabinet on behalf of our Chamber and the North County Business Community. He highlighted key initiatives including the anticipated launch of a "Business Brand" to market the northern region of the County to prospective businesses.
Press Conference at Baron Signs Manufacturing
Baron Signs Manufacturing in Riviera Beach, FL
Governor Rick Scott visited Baron Sign Manufacturing in Riviera Beach as part of the "$1 Billion Tax Cut Tour." Baron Sign Manufacturing, co-founded by our very own Board Member Sandie Foland, has been in Riviera Beach for 30 years, and has created more than 50 jobs for local families. Beth Kigel, President of the Northern Palm Beach County Chamber of Commerce, spoke about the positive impact that key proposed cuts will have on job growth within the manufacturing industry and small businesses as a whole.