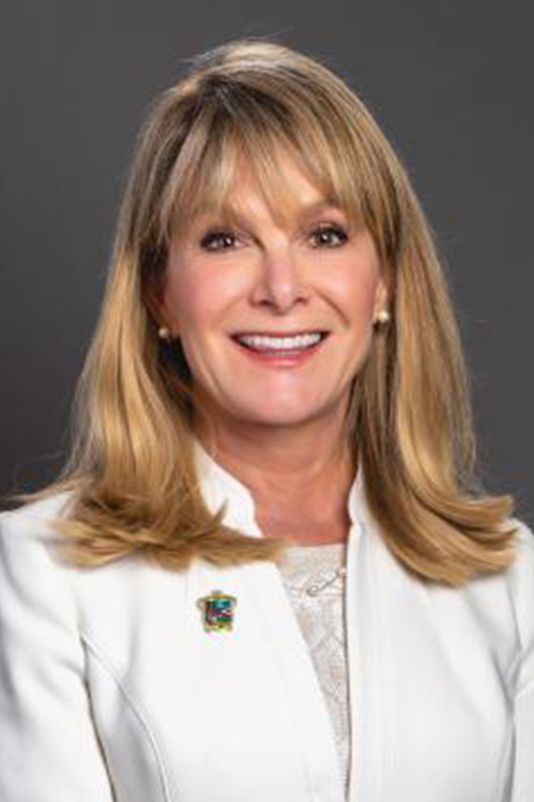 Chelsea Reed
City of Palm Beach Gardens
To establish and recommend environmental health and sustainability best practices for the Chamber and its members.
Sustainability Optimization
Turn off lights when leaving a room.

Turning off a light that is not needed is a 100% energy savings!

Install occupancy sensors, which could reduce your total lighting costs by 15%.
Save up to 30% by using smart power strips to regulate energy use on equipment such as computers, copiers, and printers.
Enable the sleep mode on office computers to achieve savings up to $20 per year per computer.
When it is time to replace printers, refrigerators, and other office equipment, choose products that have the ENERGY STAR® label.
Use programmable thermostats to reduce air conditioning during unoccupied hours. For thermostats below 75 degrees, increase them by 1 degree immediately then increase 1 degree every 3-6 months until at least 75 degrees is reached.
Pay for a professional HVAC company to service the system annually. Cleaning heat exchanger coils extends the life of the system, maintains proper energy use, and promotes better air quality.
Use daylight sensors when lights must always be on at night.
Consider installation of an Energy Recovery Ventilator (ERV).
Lighting Specific Optimization
Replace traditional incandescent light bulbs, which is a great way to save. Choose Compact Fluorescent Lamp (CFL) bulbs which use 75% less energy and last up to 10 times longer. Better yet, light-emitting diode (LED) bulbs use 85% less energy than incandescent – saving you about $70 in energy costs over the life of the bulb.

5000K/daylight/blue color for outside and industrial environments.
4000K/cool/soft white/white color for office environments.
3000K/warm/yellow color for home environments.
Life should be 25,000+ hours for the home and 50,000+ hours for commercial and industrial.

Avoid integrated fixtures or lamps.
Do not forget about signage: replacing incandescent bulbs in exit signs with LEDs saves about 80% on signage operating costs. If LEDs are not compatible with your current sign, a new sign is inexpensive and could pay for itself within a year.
If you have any questions about these tips Florida Power & Light Company's Business Energy Experts are waiting to help you and can be reached at BEE@FPL.com or 1-800-375-2434. We encourage you to view the short tutorials on how to navigate the Business Energy Manager tool.
General Sustainability Information
General Resources – Implementing Sustainability in your Business:
Further Energy Info & Resources
Industry Resources
To access your energy usage, billing and payment options, ways to save, small business tools and much more visit fpl.com/business.html
Energy Audits & Renewable Energy Procurement: Energy Audits
To identify further opportunities to reduce energy consumption and costs, existing building owners and operators may consider conducting an energy audit. This entails gathering energy consumption data for the entire building so that facilities teams can identify no-cost and low-cost energy conservation measures to improve overall energy performance.

ASHRAE Procedures for Commercial Building Energy Audits defines best practices and provides guidance on preparing, conducting, and documenting an ASHRAE Level 1 energy audit. An ASHRAE "Level 1" audit may be performed by in-house staff or by a third-party auditor.
The ASHRAE procedures and forms are standardized for use in a variety of building types but can be tailored to suit particular projects. The procedures help Identify no- and low-cost improvement opportunities that will improve operations and save energy.

Regularly recording any changes in systems, operation, and usage ensures that knowledge can be easily passed from operator to operator and is also available to support future upgrades, audits, or commissioning activities.
Renewable Energy Procurement
Green Power Partnership: A voluntary program that supports the organizational procurement of green power by offering expert advice, technical support, tools and resources.
*Sustainability information provided by Florida Power & Light (FPL), U.S. Green Building Council (USBGC) and Florida Crystals Dept. of Corporate Sustainability