Rick Murrell, Tropical Shipping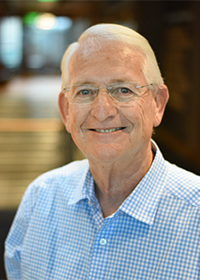 Rick Murrell, CEO and President Saltchuk Logistics, Representative of Tropical Shipping

Rick was born in and grew up in Kenya, East Africa. Rick started his career with Tropical in 1969 in the Bahamas. From 1987 through to December 31st 2017, Rick served as the CEO, President and Chairman of Tropical Shipping, leading Tropical to become a very large logistics provider for U.S. and Canadian manufactured exports to the Bahamas and Caribbean. While continuing to serve as Chairman of Tropical Shipping, Rick has moved to a new logistics role under the holding company of Tropical operating as CEO and President of Hyak Supply Chain. Hyak is a Saltchuk company with about four hundred trucks, and four warehouses, operating a cargo logistics business in Tacoma, Alaska, SE Florida, and the Caribbean.

Since 1989 Rick's focus for corporate social responsibility has been building improved disaster resiliency and recovery processes for the Bahamas, Caribbean and Florida communities. In recognition of his efforts he has received the "Golden Star of the Caribbean Award", and the "Caribbean Hotel Association Award" and was recipient of the Florida Governors 2011 Corporate Award for Tropical's work in disaster recovery and resiliency preparedness. Rick sponsored and passed legislation in 2007 to ensure more Florida fuel stations have generator power.

In late 2018 Rick was appointed to serve on Florida Gov. Elect Desantis Economic Policy transition advisory team.

Saltchuk is a privately held, female owned, family of companies headquartered in Seattle, Washington.