Lisa Nucci, Keiser University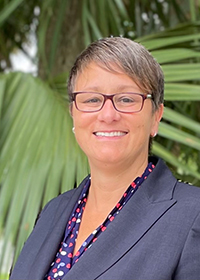 Ms. Nucci has spent the past 19 years in higher education working in both onsite and remote environments. Ms. Nucci's leadership experience in higher education administration includes leadership roles as a Campus President, Vice President, Campus Director, Director of Operations, Director of Admissions and Director of Human Resources. Ms. Nucci has also served as a faculty member teaching bachelor's and master's degree programs in business, leadership, human resources and change management.

As a higher education operations expert, Ms. Nucci is responsible for overseeing campus operations to include academics, admissions, financial aid, registrar and bursar services, student services, COVID Safety protocols, clinical coordination, career services, library and bookstore services, information technology, campus safety/security and building facilities management.

Ms. Nucci holds a Bachelor of Science in Education from the State University of New York College at Buffalo and an MBA in Human Resource Management from the University of Phoenix. In addition, Ms. Nucci served her country as a Captain in the United States Marine Corps, is a Gulf War Veteran and currently serves on US Congressman Charlie Crist's Veteran's Advisory Board, Subcommittee on Healthcare, to address healthcare matters impacting our US Veterans.