Kevin DiLallo, Universal Health Services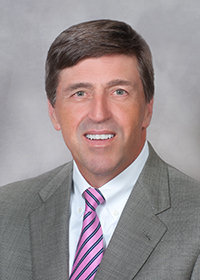 Kevin DiLallo joined Universal Health Services in February of 1998 and is responsible for overseeing the operations for Florida which includes Manatee Memorial Hospital, Lakewood Ranch Medical Center, and Wellington Regional Medical Center. As Group Vice President, Kevin provides leadership to over 3,000 employees and 1,000 physicians in a multisystem, integrated network.

Kevin has over thirty years as a seasoned, senior Healthcare Executive. Before joining the Manatee Healthcare System, Kevin served as Chief Executive Officer at Wellington Regional Medical Center in West Palm Beach, Florida for twelve years. While in West Palm Beach the South Florida Business Journal named Kevin the Palm Beach Ultimate CEO in 2009. Kevin's major focus is leading for-profit, academic and community-based healthcare organizations and is a results-oriented, decisive leader with success in providing overall leadership and direction supporting strategic visioning, operational improvements, financial performance and physician alignment initiatives. He has a proven track record of building teams, physician relations, and strategic planning.

Kevin believes in giving back to his community by supporting many not-for-profit organizations and serving on several boards in his community. He is also very active in the American College of Healthcare Executives and has been Board Certified in Healthcare since 1998 and a member of the College since 1987. He served as a member of the Council of Regents for the College from 2008 to 2011 for Eastern Florida and recently served as the Regent for Northern / Western Florida from 2014 to 2017.

Kevin is also very active in the Chamber of Commerce: he served as the Chairman of the Board of the Central Palm Beach Florida Chamber in 2009 and is one of only 4 members of their Hall of Fame. He was also named "Man of the Year" by the Wellington Chamber of Commerce. Kevin served as the Chairman of the Board for the Manatee Chamber of Commerce, the largest Chamber on the west coast of Florida with over 2,000 members. His concentration on business development and job creation in Manatee County was noticed by the Economic Development Council with the council awarding him the "Rick Fawley award of Distinction" in 2017.

Kevin holds a Master's in Business Administration from the Nathan M. Bisk School of Business at the Florida Institute of Technology in Melbourne, Florida. He resides in Stuart, Florida with his wife Jo-Ann.