Debra Tornaben, Development Expert/TV Host & Producer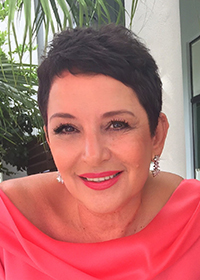 For the past 30 years Debra created successful campaigns that raise millions of dollars locally. Her work enhanced the cultural environment of the Palm Beaches and the organizations she represented helped to change the lives of some of the most vulnerable members of our community.

Her work began with a successful Campaign for The Salvation Amy. In the early nineties she was asked to join Donald Trump to help preserve a national treasure, converting the Mar-a-Lago estate into a private club. She was later recruited by Edward Villella where she successfully established the Miami City Ballet in Palm Beach and raised funding for what is today a world class ballet company.

For over a decade she served as a Director and Host/Producer of a local PBS TV series entitled Debra!!! As a WXEL Trustee she assisted in helping to create South Florida PBS.

She won several national awards for her local PBS events and her series was recognized for interviewing legends like Pavarotti and Larry King.

Commissioned for a documentary in Odessa, Debra spotlighted the horrible conditions of Jewish orphans and her series became a platform for conversations like the local foster care crisis and the horrors of Sex trafficking.

She continued her work at KidSanctuary Campus where she has created a campaign to complete and sustain the 10-acre foster care campus in WPB and today serves as Director of Advancement for Catholic Charities Diocese of Palm Beach.

She and her husband spend their summers in Italy with their two children and Debra currently serves on the Board of the American University of Rome.