Bethany Alex, Florida Atlantic University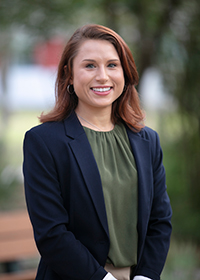 Bethany Alex serves as the Director of Local Relations in the Office of Government Relations at Florida Atlantic. In this role, she leads engagement and communication efforts for FAU at local levels of government, within the economic development community and among non-profit organizations.

Prior to joining the Government Relations team, Bethany was the Associate Director of Media Relations for the FAU Public Affairs' Northern Campuses Communications team where she was responsible for the development, delivery and management of media strategies and communications activities supporting FAU's Strategic Plan, as it relates programming based at FAU John D. MacArthur Campus in Jupiter, Florida and FAU Harbor Branch Oceanographic Institute in Fort Pierce, Florida.

Bethany is a born-and-raised Floridian, growing up in Palm Beach County. She received her bachelor's degree in Political Science from the University of Florida and her graduate degree in Public Administration from the University of Central Florida. Bethany holds a Graduate Certificate in Public Budgeting and Finance, also from UCF, and holds over ten FEMA certifications in topics ranging from crisis communications to advanced emergency management operations - trainings acquired in her previous career field as a Public Information Officer for fire rescue agencies.

Bethany has a passion to inspire, educate and engage with others to positively impact the community. When she is not on the clock, you can find Bethany at her favorite CrossFit gym, enjoying a run with her Labrador retriever-mix, Cooper, exploring Florida's beautiful nature or spending time with her family.