Michael Lessing, Pelican Club, Lessing's Hospitality Group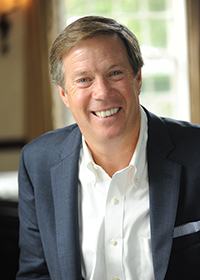 Michael Lessing is the President of Lessing's Hospitality Group and chairman of the company's Executive Committee, a sixth-generation food service company that has been serving the East Coast for over 125-years.

A proud Long Island native, Michael Lessing was born into a family that prides itself on both their hospitality and their innovation. Lessing's Hospitality Group was founded by Maxwell Lessing in 1890 and is operated to this day by 15 family members representing three generations of Lessing's.

Michael began his career in the service industry at a young age. His first endeavor as a Lessing's employee landed him as a steward at the Bethpage Clubhouse. He moved through the ranks to earn a leadership role in 1989 at the West Sayville Country Club. In 1993 he took over Timber Point Country Club, where he served as General Manager for 10 years. He was appointed to the Executive Committee and Director of Catering Operations in 2002. After a triumphant tenure, he was elected to President in 2009.

As President, Michael oversees the day-to-day operations of all facets of the company. Lessing's Hospitality Group is organized into four divisions, Lessing Foodservice Management; Catering and Special Events; Lessing's Restaurants; and Lessing Franchise Group. The Food Service Management division alone operates in more than 100 locations throughout the Northeast, with a 2,000-plus member team. Most recently, in 2013, Michael led the company to enter into a franchising agreement with Blaze Fast Fire'd Pizza - a Los Angeles based fast-casual pizza concept that is popping up across the country. Lessing's holds the rights to develop the franchise in the Long Island, New York City and Connecticut, with seven locations open and several other under development.

He is a firm believer that the success and growth of Lessing's coincides with their dexterous approach and quick adaptation to their surroundings, while maintaining status with industry trends. As President the biggest challenge that he faces is procuring talent throughout the company, as well as, controlling costs in a competitive environment with varying regulations. Within his term, Michael aims to grow all divisions of the company while continuing to solidify the company's legacy of remarkable hospitality.

Michael is active in many local, professional and charitable organizations. He is a member of the Palm Beach County Business Development Board, FRLA, a Jupiter Lighthouse Luminary, board of the Long Island Association and the Culinary Institute of America's (CIA) Society of Fellows, the International Caterer's Association (ICA) and the International Special Events Society (ISES). He recently served as a Trustee on the Board of Good Samaritan Hospital Medical Center and as a member of the Hospital's Foundation Board. In addition to his work with Good Samaritan, he actively plays a role in several other local causes, including the Long Island Convention and Visitors Bureau (Discover Long Island) and our Lady of Consolation Nursing Home. Michael has been the recipient of several awards in his position including winning the 2017 Executive Circle Award for LI Business News and the Family Business CEO of the Year for Smart CEO of NY. Outside of the office, Michael is an avid boater, loves the beach, has a passion for good food and to him, family is always first.