Business & Community Guide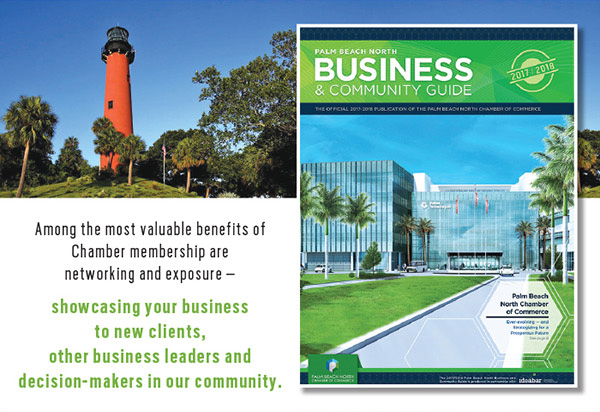 Palm Beach North Business & Community Guide
The annual Palm Beach North Business & Community Guide is the official publication of the Palm Beach North Chamber of Commerce.
This glossy magazine is a networking tool to showcase your business.
The magazine lists all of Palm Beach North's members, both alphabetically and categorically, so it is a one-stop resource for residents in Palm Beach North communities.
The guide showcases Palm Beach North services, signature events and leadership. It also celebrates the accomplishments of its members.
Distribution
5,000 printed copies
Distributed by Palm Beach North to Chamber members and at high-traffic areas around the community
Available at the Palm Beach North office, distributed at Chamber events and included in economic development, relocation and membership packages
Publication also appears on the Palm Beach North website and copies can be ordered online
The 2018-2019 Business & Community Guide is produced in partnership with the Palm Beach Post.
Publication date: June 2018
Advertising Space Reservation: Friday, May 11
For more information and to be featured, please contact:
Patrick Fuentes
(561) 820-4320 | (800) 432-7595 Ext. 4320
pfuentes@pbpost.com | www.palmbeachpost.com