Executive Trustee Member Bio
Rick Murrell, Tropical Shipping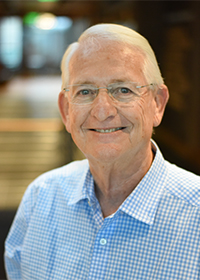 Rick started his career with Tropical in 1969 initially working in the Bahamas for 5 years. In 1987, Rick assumed the leadership of Tropical Shipping, which has since become a leading ocean carrier and logistics provider for U.S. and Canadian manufactured exports to the Bahamas and Caribbean. Tropical Shipping, headquartered in Palm Beach County, operates regularly scheduled sailings from the ports of Saint John, Canada, Port of Palm Beach and Caucedo in the Dominican Republic, to 28 ports in the Bahamas and Caribbean. Tropical's associated logistics businesses also offer weekly service from most major worldwide ports to and from the Bahamas and Caribbean.

In 2005, Rick was presented with the "Golden Star of the Caribbean Award" by Caribbean Central American Action, a Washington based organization focused on the Caribbean. In 2006, Rick was presented with the "Caribbean Hotel Association Award" for leadership of Caribbean disaster recovery efforts. Tropical Shipping was selected as recipient of the Florida Governors 2011 Corporate Award at the 2011 Florida Governor's Hurricane Conference for Tropical's support in disaster recovery and preparedness.

Tropical Shipping is the international shipping and logistics line of business owned by the Saltchuk family of companies, headquartered in Seattle, Washington.