Executive Trustee Member Bio
Don McKenna, Jupiter Medical Center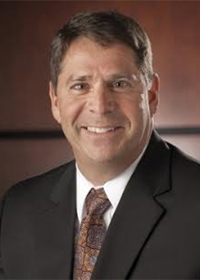 Don McKenna serves as president and chief executive officer of Jupiter Medical Center, a not-for-profit medical center in Jupiter, Florida. A recognized leader and highly successful executive with more than 25 years of experience in the health care industry, McKenna joined Jupiter Medical Center in January 2018. Throughout his career, he has achieved tremendous success, increasing both access and delivery of high-quality care.

Prior to leading Jupiter Medical Center, McKenna led St. Mary's Health Care System based in Athens, Georgia - a fully integrated, not-for-profit health care system that includes three hospitals serving 13 counties in northeast Georgia. As president and CEO of St. Mary's, McKenna led the system through several ambitious and successful projects including the acquisition of St. Mary's Sacred Heart and St. Mary's Good Samaritan Hospital. During his tenure, he improved the financial performance, quality rankings and patient perception of care at St. Mary's. Under his leadership, the health care system was named a 2016 Healthgrades "Top 100 Hospital" and was recognized three times as Georgia's "Large Hospital of the Year." In 2017, McKenna was named "CEO of the Year" by the Georgia Alliance of Community Hospitals.

Before joining St. Mary's in 2008, McKenna served as senior vice president and administrator at Wuesthoff Health System in Rockledge, Florida, a not-for-profit, two-hospital system now known as Steward Health Care. He has also served as CEO of Seven Rivers Community Hospital in Crystal River, Florida, and Chief Operating Officer (COO) for North Ridge Medical Center in Fort Lauderdale. Early in his career, he worked in Palm Beach County as a director at Palm Beach Gardens Medical Center.

McKenna earned his bachelor's degree in business administration and his master's degree in public administration from Long Island University in Brookville, New York. He is a Fellow of the American College of Healthcare Executives, and serves on the Board of Directors for several community and professional organizations.