Executive Trustee Member Bio
Arjun Chowdri, The PGA of America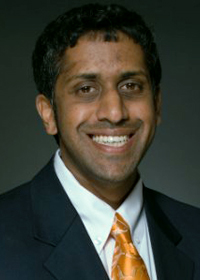 Arjun H. Chowdri is currently the Senior Director of Global & Corporate Strategy for the PGA of America where he is responsible for the strategic planning process across the Association, cross-functional programming, research and global initiatives. Prior to this role Arjun led the Marketing & Communications Department for the PGA of America including creative, PR, digital, production and communications across all of the association's initiatives and events.

After completing his undergraduate at the University of Chicago and MBA from the Warsaw Sports Marketing Center at the University of Oregon, Arjun started his career in the sponsorship consulting representing such Fortune 500 companies as Visa, ConAgra Foods, and PepsiCo. Arjun then moved to India taking on a role as the GM of New Business for DNA Entertainment LTD. While there his efforts focused on the event company's support of the newly launched Indian Premier League, which included managing the Bangalore franchise event operations, the opening and closing ceremonies for the league, and the ticket sales and operations for the franchises through a joint venture TicketPro. Upon his return from India and prior to joining the PGA, he took on a role at Glaceau which was then a newly acquired division of Coca-Cola where he led the sports marketing and commercial retail planning efforts behind brands such as POWERADE, vitaminwater, and NOS Energy.

Arjun currently resides in Palm Beach Gardens, Florida with his wife, Prathyusha, and two sons, Abhinav and Kesav.